WiFiSecureAccess access controller is a smart controller that can be used for controlling and managing access to any restricted or public areas. The restricted areas can be a house, office, building, garage doors and gates, or anything similar. It can also be a private parking lot of an apartment complex or office. Public areas are public parking lots (paid or free), public transportation systems, cinema halls, GYMs, caravan parks and so on. WifiSecureAccess access controller can be integrated with any of the existing controller. With this integration, one can also use Google Home, Google Nest, Google Smart Home or Amazon Alexa to operate the door/gate. The doors/gates can be operated from anywhere remote. One can also know the current status of the door/gate (whether open or closed) from remote. Notifications can be configured to send if the door/gate remains open for a long time. If it is a garage door or gate, one can configure AutoClose such that the garage door/gate gets automatically closed after a pre-configured delay. Multiple users can be authorized to open/close the door/gate. The owner of the controller can revoke this authorization any time. It is also possible to configure the door/gate such that the authorization gets automatically revoked after a date/time. In addition, one can configure open and close times such that only between these times the authororized persons can access the door/gate. It is also possible to set authorizations such that some people are allowed to use only during some specific time period on pre-configured days of the week. When used for paid parking lots, public transport, or cinema halls, entry fees are charged automatically and debited to their credit card using Stripe system. Booking a place or holding a place in public places such as cinema halls and parking lots are also possible. This documentation describes how the smart controller can be installed and how the smart device can be configured to meet all the needs.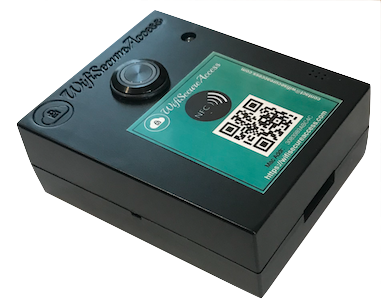 This smart device can be purchased either from eBay or from Amazon. It will be available through other sources in the future. Search for WifisecureAccess in eBay or Amazon.






Note: If you have purchased a dedicated garage door/gate controller, it can be used for controlling only garage doors and gates and not for all other access controls.

This access controller comes with a scanner box that can be installed at a convenient place outside for scanning QR code. This access controller can be interfaced with a variety of actuators depending on where it is installed.

The following figure shows various components that can be interfaced to access controller. As this picture shows, it can control an electric strike, a magnetic switch, public access gates, doors with electric strike or magnetic switch, boom gates. garage doors or gates. One controller can control only one device. The sensors connected to it can be a magnetic switch, a limit switch or an ultrasound sensor. Limit switches and magnetic switches are used to detect whether a door or gate is currently closed or open. Ultrasound sensors are used to detect if a person is in a seat of a public place, or a vehicle is in a bay of a parking lot.