1.0 Introduction
Last updated: 2021-10-20
The "WifiSecureAccess" provides an IoT system that can be used for Home/Industrial Automation, Instrumentation, and remote data collection and logging. Electrical equipments and Sensors can be connected to the smart device. You can, then, configure the smart device to activate (put on or off) an equipment using a smartphone from anywhere remote or automatically or on a timer schedule, or based on the data sensed by the sensors. You can also use this for collecting data and send to a remote computer for either data logging or detailed data analysis. This is a complete management system which includes the management platform, an inexpensive smart device(buy) and a mobile app (Apple, or Android).

Users can configure these devices such that an equipment (such as electric switches, electric lights, motors, and so on) can be activated either by scanning a QRCode or NFC Tag or by Google Home Assistant or Amazon Alexa, or from remote by pressing a button on the smart phone. Automatic actuation of the equipment can also be configured either when a condition is sensed by a sensor or periodically when a timer times out. It is also possible to configure automatic controls to activate an equipment connected to one smart device depending on the values sensed by a sensor connected to another remote smart device. Remote data collection and data logging can also be configured.

The controller is compatible with Google Home, Nest and Amazon Alexa. So, these can be integrated with your smart home and can work along with all your other devices connected to smart home.



This smart device is a part of our IOT system which has an architecture as shown in Fig 1. The device comes with a firmware pre-programmed. Firmware can be updated online. To use this smart device to monitor sensors, and/or to activate equipments and external devices, no programming is required. Everything can be done by configuring on our web interfaces.

Our IOT system comes with an app for smart phones. The ports of these smart devices can be activated either by scanning its QR Code/NFC Tag or by pressing a button on the smart phone or using Google Home Assistant or Amazon Alexa.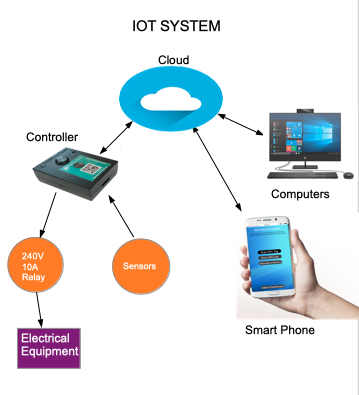 The smart device is an ESP8266 based hardware with a powerful WiFi. The device has an AC-To-DC power supply onboard. It can also take a 12V power instead of an AC power. The device has one relay with NO, NC and COM available at its connector. The relay pins are rated 240VAC/10A. So, it can be used to put ON/OFF AC source as well. The device also has internally operated Buzzer and LEDs. This smart device also has two digital inputs (D6 and D7) and one analog input Vin. D6 and D7 can be used to read any ON/OFF signals such as limit switches, motion sensors and so on. These can also be used to read digital data from temperature/humidity sensors, ultrasound sensors and so on. This smart device is compatible with almost all sensors that are available for Arduino. The analog input Vin can be in the range of 0 through 3.3V. The device also has a Reset button and a Factory-Reset button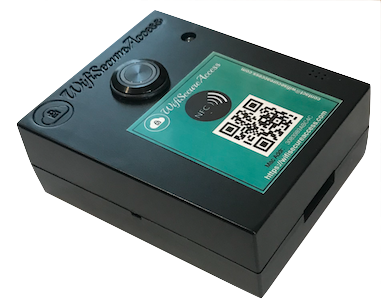 This smart device can be purchased either from eBay or from Amazon. It will be available through other sources in the future. Search for WifisecureAccess in eBay or Amazon.


Buy Now

The following figure shows various components that can be interfaced to access controller. As this picture shows, it can control an electric light, an electric motor, an electric fan, a heavy duty relay, solenoids, and so on. The output current must be limited to 10A. If you are using internal 12V power to drive anything, the current must be less than 1A (preferably 500ma). If you want to activate any equipment of higher ampere, you can connect another heavy duty relay between the controller and that equipment. You can cable only one electrical equipment per controller.

Any type of sensors can also be connected to the controller. It has an analog input and so any sensor that gives an analog output in the range 0 to 3.3V can be connected to it. In addition, any sensor that is compatible with arduino can also be connected to the controller. Examples are mition sensor, temperature humidity sensor, ultrasound sensor and so on. You can cable multiple sensors to a controller.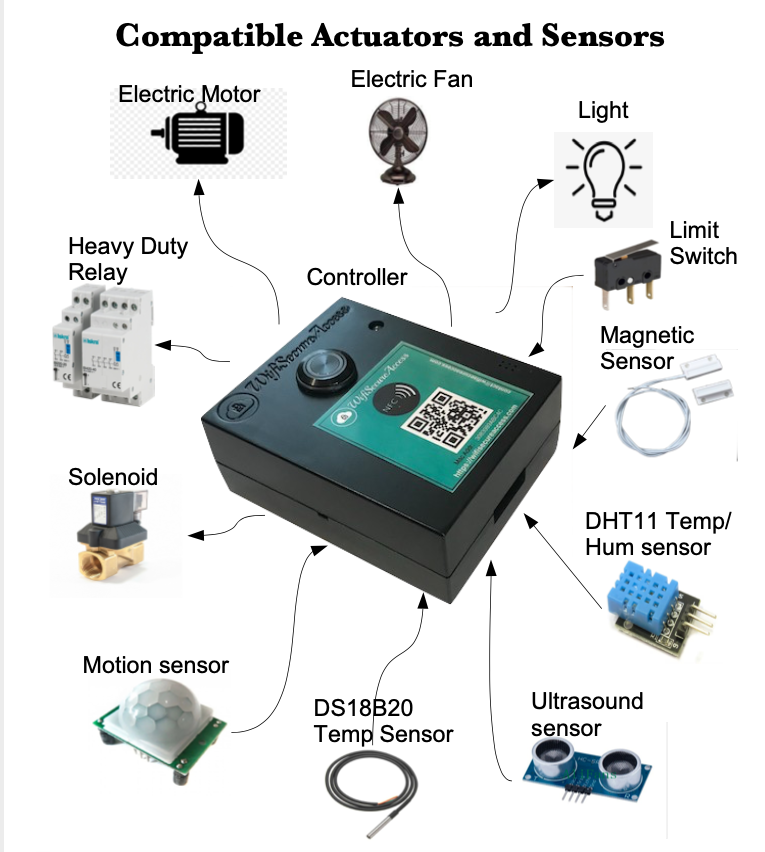 The controller can be opened by inserting a flat screw driver in the side hole of its plastic box and twisting it. Use a correct flat screw driver that has a flat end approximately as wide as the side hole on the box. Insert it slightly and twist open. You need to apply some force when twisting. You will hear a cracking sound when the latch comes out and the box opens. That sound is normal. Do not pull apart both parts of the box too fast, as there is a cable inside the box connecting the switch on the top lid to the PCB on the bottom part. When opening the box, try not to break that cable. The only time that you need to open the box is when you install it and do the cabling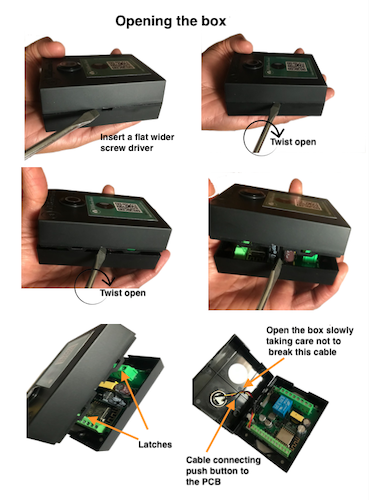 Pictures below show all the connectors and the labels on each connector. These will help when cabling and installing the controller.